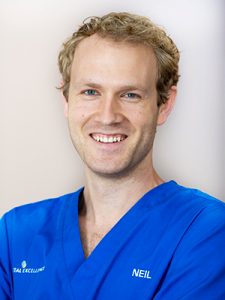 BDS
Neil gained his Bachelor of Dental Surgery from Otago University in 2014 and has thoroughly enjoyed dentistry ever since. Calm and relaxed in nature, Neil strives to help all of his patients feel the same way when they visit.
He spent two years working as part of the Maxillofacial surgical team at Waikato Hospital, an experience that helped him become skilled in non-specialist oral surgery. During these years he studied and completed the primary examinations through the Royal Australasian College of Dental Surgeons.
After this, Neil and his wife decided to pack their backpacks and travel the world. This exciting journey lasted for most of 2017 and led them to experience over 26 different countries and cultures.
Now back in his home country and home town, Neil joined the Dental Excellence team in January 2019. His main areas of interest lie in restorative dentistry, helping people to improve their smiles, furthering his studies in this arena Neil attained membership to the New Zealand Academy of Cosmetic Dentistry. He also really enjoys oral surgery. Neil is qualified in IV sedation, whether it be for tooth removal or for general dentistry.
Neil is passionate about the outdoors and loves fishing, hiking and competitive mountain biking, along with many other hobbies such as aviation, music, travel, and photography.