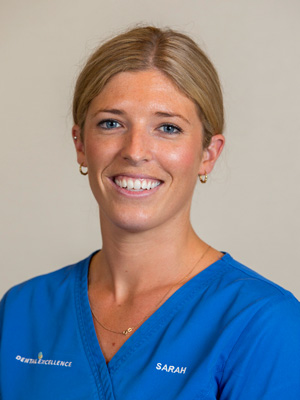 BDS Distinction
Dr Sarah Underwood graduated, with distinction, from Otago University in 2012. She spent 2013 at Waikato Hospital working in the Dental and Maxillofacial Department alongside the oral maxillofacial surgeons. Working at the hospital has given Sarah great experience in oral surgery and treating patients with complicated medical issues. Sarah has been working here at Dental Excellence since 2014. During her time here with us she has also held part-time positions in practices in both Matamata and Leamington. From April 2017 Sarah will be working exclusively at Dental Excellence.
Raised in Matamata, Sarah & her husband Khan now live on a dairy farm in Walton. Sarah enjoys helping Khan with farm work during weekends, along with their German Shorthaired Pointer "Mac".
Sarah is an active Branch member and for the last 2 years has been the Young Dentist Representative for the Waikato Bay of Plenty Branch of the New Zealand Dental Association. She has established excellent relationships with her dental colleagues and comfortably seeks second opinions from specialists for difficult cases.
Sarah's passion is to create healthy smiles by balancing the art and science of dentistry with her skill and kind approach. She hopes to make her patients feel comfortable, relaxed, informed and at-ease during appointments. She encourages those of you who are anxious to come and see her as she is committed to spending the time with you to reduce your dental anxiety/fears.  Her goal is to help her patients maintain oral health through prevention and knowledge.