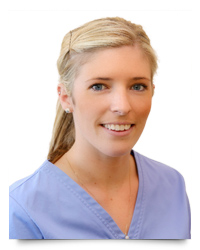 BDS Distinction
You may know Sarah as Sarah Davidson, she has recently married. Dr Sarah Underwood graduated, with distinction, from Otago University in 2012. She then spent 2013 at Waikato Hospital working in the Dental and Maxillofacial Department alongside the oral maxillofacial surgeons. Working at the hospital has given Sarah great experience in a wide range of dentistry and surgery.
Her areas of interest include restorative dentistry, crown and bridge work, and endodontic treatment. She also has an interest in dental trauma and oral surgery and has treated many patients with complex medical conditions.
Having grown up in the Waikato, Sarah is excited about the opportunity to "come home" to a familiar place and familiar faces. She enjoys sport and travelling, and has spent time doing triathlons and other running events and enjoys playing volleyball and netball.
Sarah's passion is to create healthy smiles by balancing the art and science of dentistry. She hopes to make her patients feel comfortable and relaxed during appointments and her goal is to help her patients maintain stable oral health through prevention, treatment and knowledge.