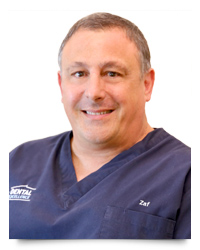 BDS, Grad Dip Forensic Odont, FFOMP (RCPA), FNZSP
Dr Khouri has a gentle manner – a soft touch – but is uncompromisingly exact in his clinical work. His areas of professional interest include restorative dentistry, cosmetic dentistry, crown and bridge dentistry and oral surgery.
Zaf is certified to provide intravenous conscious sedation, and receives referrals from many colleagues for minor oral surgical procedures, such as removing impacted wisdom teeth. This is a very helpful service if you require this sort of treatment but have limited/no health insurance cover and cannot afford specialist fees.
A past Treasurer & past Secretary of the Waikato Bay of Plenty Branch of the NZ Dental Association, Zaf is also a member of the NZ Society for Anaesthesia and Sedation in Dentistry and involved in several organisations focused on forensic dentistry. Forensic dentistry is an area of special interest for Zaf, a founding member of the New Zealand Society of Forensic Odontology, he is also a past President of that Society. Zaf is also a member of the Australian and New Zealand Forensic Science Society and the American Society of Forensic Odontology. He is a Fellow of the Faculty of Oral & Maxillofacial Pathologists of the Royal College of Pathologists of Australasia (FFOMP(RCPA)) and a Fellow of the NZ Society of Pathologists (FNZSP).
Dr Khouri is happily married to Cathy Khouri, a well known and highly respected clinical dietitian. They have three adult daughters, to whom they are both devoted.